"Ka U Lotha" (I have a riddle) I asked my host family at the dinner table.
I was back in my training village, Ha Mothebesoane, for our Phase 3 training. In Peace Corps this is done after we have lived at our sites for three months. Traveling there, I felt overwhelmed. I was not ready to talk about my successes and challenges at site, the cultural barriers I have faced, and my progress with integrating into my community. Because of my chaotic circumstances I had only spent six weeks of the past twelve in Thaba Tseka building my community, networking, and creating relationships. Although, I now have a lot going on I still did not feel ready to summarize it all and write it on FlipChart paper.
When I arrived at "The Elephant Door" Rapelang sprinted to meet me on the path. We both grinned to our ears and laughed, not letting go of our hug for nearly a minute. I had already filled my stomach on hotel food; chicken strips and fries are now a luxury (19 year old vegan Alicia would be so upset). Our HY 15 group of volunteers had met up before departing to our training village to use WiFi and catch up. Most of us had not seen each other in three months and after spending nearly every waking moment together in PST there was a lot to talk about. I arrived with a full stomach, but 'M'e Maneo had cooked a typical fancier Basotho dinner. It consisted of meat, pumpkin, beet root, mayonnaise carrots (unfortunately she forget I'm a hold the mayo kinda gal), and spinach. For dessert, jello and custard with cookie crumbles. Sitting with Rapelang, 'M'e Maneo and Sele by candlelight again I felt at home. All of my feelings of anxiety coming into this week had vanished. I could write my successes and challenges on FlipChart paper if that meant I was able to have dinner with my host family every night for the next week.
Ka monna (It is a man/thing)
Ha a ema, e na le maoto a mararo (When standing, it has three feet)
Ha a tsamaea, e na le leeto le leng (When walking, it has one foot)
Ka eng? (What is it?)
During the week my language teacher, 'M'e Mampho, taught us riddles in Sesotho. She got a kick out of the ones we translated to Sesotho from English that she did not know previously. The queen of riddles she quickly solved and answered those too, and she seemed to know every riddle our families told us at the dinner table that week. Language classes were relaxed and probably the most useful part of Phase 3 Training. We laid in the grass and the beginning of my Chaco tan lines are now in the works. It's nearly Summer, especially in the lowlands.
Don't know the answer?
Ka se reka (Buy it)
In Lesotho, riddles are bought with another riddle. If the other person then answers your riddle you have to keep going until they can buy the answer and tell you.
Back at the "Hub" -Greetings from your PST nightmares- I admit, it was still a little too soon. I wrote my successes for the first three months on a piece of paper:
1. I have nearly achieved FULL integration into my home away from home convent room in Maseru.
-Two posts ago in July I wrote about how I had not yet moved to site for various reasons related to my house not being ready, the overlap with another volunteer ending her service, transportation and weather..Since then, I have had to go back to develop a positive communication plan with my organization, help out with a Gala Dinner event, and write/edit proposals based on work previously done in my community through CCJP. Now, when I go to Maseru I have a community. The sisters at the convent and the few people that work there always greet me with wide smiles and ask where I have been for so long. There is a restaurant across the street from my work called "Maria Delicious" and yes, I am basically a regular which includes being greeted with a big hug at the door. They have, without a doubt, zero competition the best fries in Lesotho.
2. I have friends.
-Yay mom, I fit in! On Saturdays, Retse and I play R & B from 2-3pm at Motjoli FM and dance our butts off while blasting music at the station. Retse thinks I should have a dance club and that I, Alicia Can't Dance Carter, need to teach her how to dance. For those of you who know me and my lack of rhythm, I too think it's hilarious, although flattering. Cheers to confidence! The world is truly upside down in the Southern Hemisphere.
3. I have successfully started two GRS interventions at local primary schools.
-I feel incredibly lucky to have two awesome and passionate Basotho counterparts. Nete and Retsepile facilitate the lessons while I only need to chime in with a silly kilo or energizer from time to time and check the watch. Who would have thought sustainability could be reached so soon in the program? As far as"The Lucky Girls" and "The Lucky Sisters" (not quite sure why the word lucky is so popular) well they are kicking GRS booty! The girls are engaged and having fun while at the same time retaining the material being taught.
4. I play kick-ass volleyball weekly with bo-abuti.
-The day Abuti Nthabelang spiked the ball on the ten foot line I was more excited than filling up my pumpkin with candy on Halloween at age six dressed as a turtle monster. Every day until it is pitch black outside boys from Thaba Tseka High School, Lesotho College of Education, and Thaba Tseka Technical Institute play six on six at the volleyball court. Volleyball has always been a source of my happiness, boosted my self-esteem, heightened my confidence, built my strength, and created a community for me in every city I have ever lived in. Thank goodness I can hang.
5. My podcast knowledge is through the roof.
-Silence is extremely loud when you are alone in your hut. Some of my favorites are: TED Radio Hour, Story Corps, The Moth, and Stuff You Should Know. Check em out! You won't be disappointed.
6. I have pursued photography projects!
Sneak preview: Untitled Hair Project
I have made the mistake of asking a few Basotho women who I have met multiple times their names simply because I did not recognize them. Although I had seen them a week earlier they had since changed their hair style! Nete's hair was no longer short but firey red and braided at the roots. Resilisitsoe's hair went from long and dark to short braids swirling on her head with a small bun in the back. I realized that women in this culture love to change their hair and it is absolutely beautiful. In a culture where women do not have a much of a voice, but have some of the most important roles in society, their hair is a form of self expression, beauty, creativity and only they hold the control over how it will change.
The objective of this photo series is to document the changing hair styles of eight different Basotho women living and working in the Thaba Tseka camp-town for the next year. The photos will be simple and focus on the different personalities and hair styles of the women. I will ask them a few questions that I will keep record of as I begin to get to know them more and more. I hope the project will show the strength of these eight incredible Basotho women I have met and their aspirations for their future, as well as empower women all over Lesotho and the world to love themselves more and take control of not only their hair, but their lives!
Meet Sebutsoe
I made a T column and began to write my challenges/lessons learned:
1. In the Peace Corps patience is truly a virtue.
-Things that normally happen in a day, take a week, and things that happen in a week, take a month. In the workplace, in public transportation, in organizing a meeting, or in waiting to get a precious ice cream cone when the machines finally turned on for summer, my patience has been tested. I have to remind myself to breathe, relax, and know that no one is moving fast here so I can slow down a bit, too.
2. Learning when to say no and when to say yes.
-Because of my flexibility and unstructured work schedule I am able to meet a lot of different organizations, explore options for work, and decide what I am passionate about or where I could see sustainable progress. People ask me for a lot of things and it is a common assumption that I know a lot about pretty much everything. No, sorry I can't help you with your criminal law paper. Guarding my time and taking the time to simply put my house together has been important, but also a challenge while trying to integrate in my community when I had already arrived a month later than I had expected.
3. The value of integration and learning to measure my success through that.
-This could be simple tasks like making a group of bo-ausi laugh on my walk home, studying Sesotho at night for an hour, or learning a new Basotho way of cooking. Integration will lead to positive relationships and trust which I will need when pursuing projects and attaining the goals that we hope to achieve.
4. To not judge what I don't understand.
-It is easy to judge things here, but there are many things I do not understand yet and may not ever connect to. It is best to jump into this culture with an open mind and open heart.
Ausi Sebutsoe, a volunteer at Motjoli FM, went to Maseru last week for a workshop. In Lesotho year-end workshops are common in organizations funded by third parties or international aid. When money is not spent before the fiscal year ends, it is usually put toward bringing all employees or members together to train and discuss future projects. However, unlike the normal la dee dah workshops Sebutsoe attended one with 'M'e Lineo from the Ministry of Gender for Thaba Tseka. I asked Sebutsoe what she learned about at the workshop:
The UNDP recently launched a new Development campaign. 2015 marks the end of the previous UNDP plan for development, the Millennium Development Goals. The MDGs consisted of eight goals that were identified as universal targets for economic and human development, as well as, environmental sustainability. In many countries, especially Lesotho, the MDGs were not reached..not by a long shot. A World We Want post-2015, the UNDP has created new, more attainable and country specific goals. There are seventeen and they are called the Sustainable Development Goals (SDGs).
Rumor has it that this week the Ministry of Education has committed to participating into world learning project where primary schools nation-wide select an SDG they would like to focus on and implement a lesson plan to their students involving a creative activity, such as poem writing.
I ran to the top of a mountain at sunset today. How romantic, right? When I returned one of my favorite primary school teachers was waiting for me. She had selected my host sister, Ausi Sebabatso (If you've read my previous blogs she is the one with the sassy face coloring post cards with me outside my house) to go with the Ministry of Education to Maseru tomorrow and read her poem about "Quality Education" in front of a large audience with other students from around Lesotho.

"I am here to recite a poem entitled Quality Education
Quality Education which we need is:
The one that brings about physical development
Soccer, athletics, and nutritious foods
To help us grow physically fit
The one that brings about mental development
Puzzle fixing, maths and science clubs
To help us be innovative and creative
The one that brings about emotional development
Music, poems, and rhymes
The one that brings about social development
Group work, games and partnerships
To promote peace and stability
After that I would like to rest my case!!"
Photos: Lightning, A Super-Blood-Eclipse Moon, Random Events, and Family: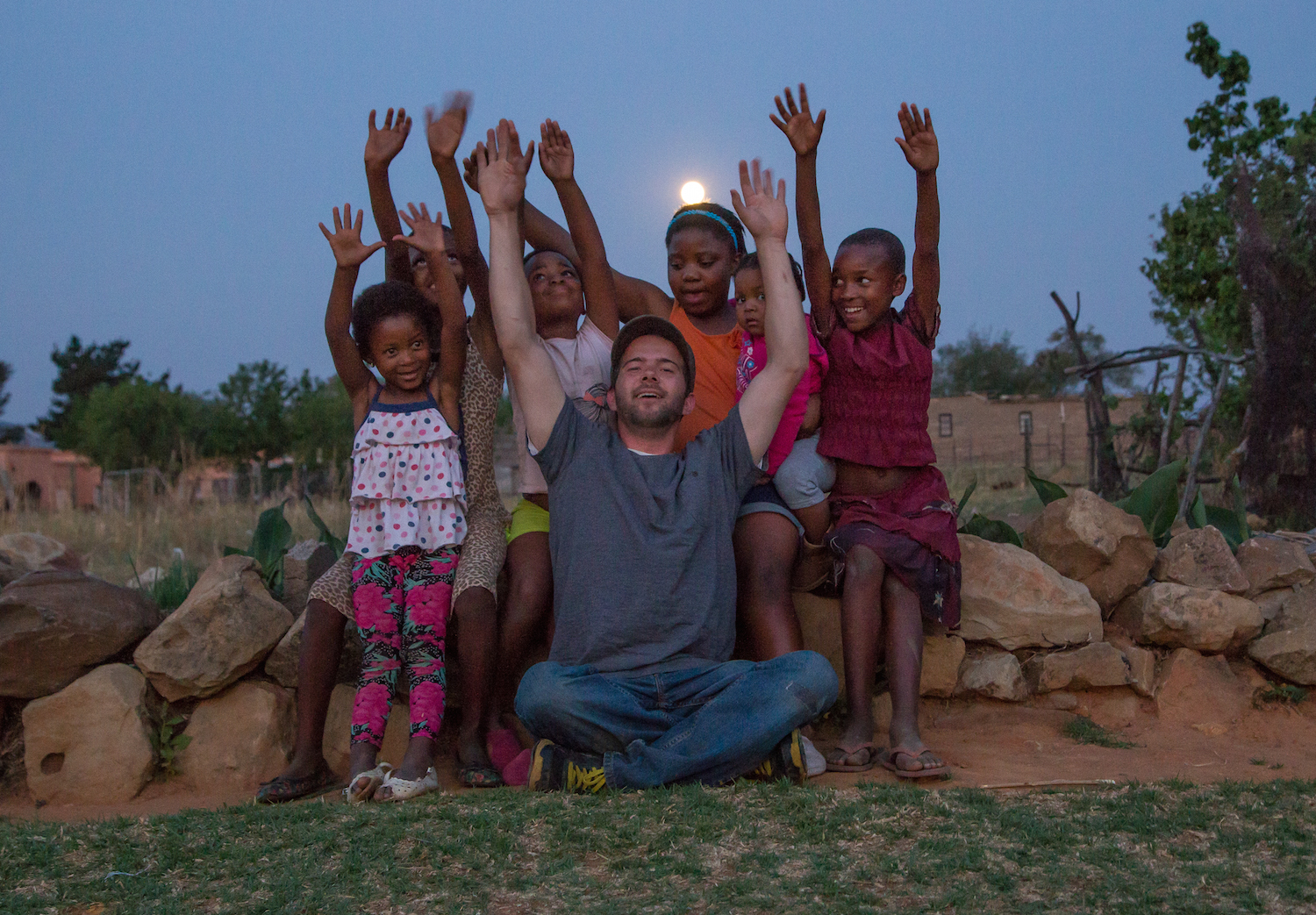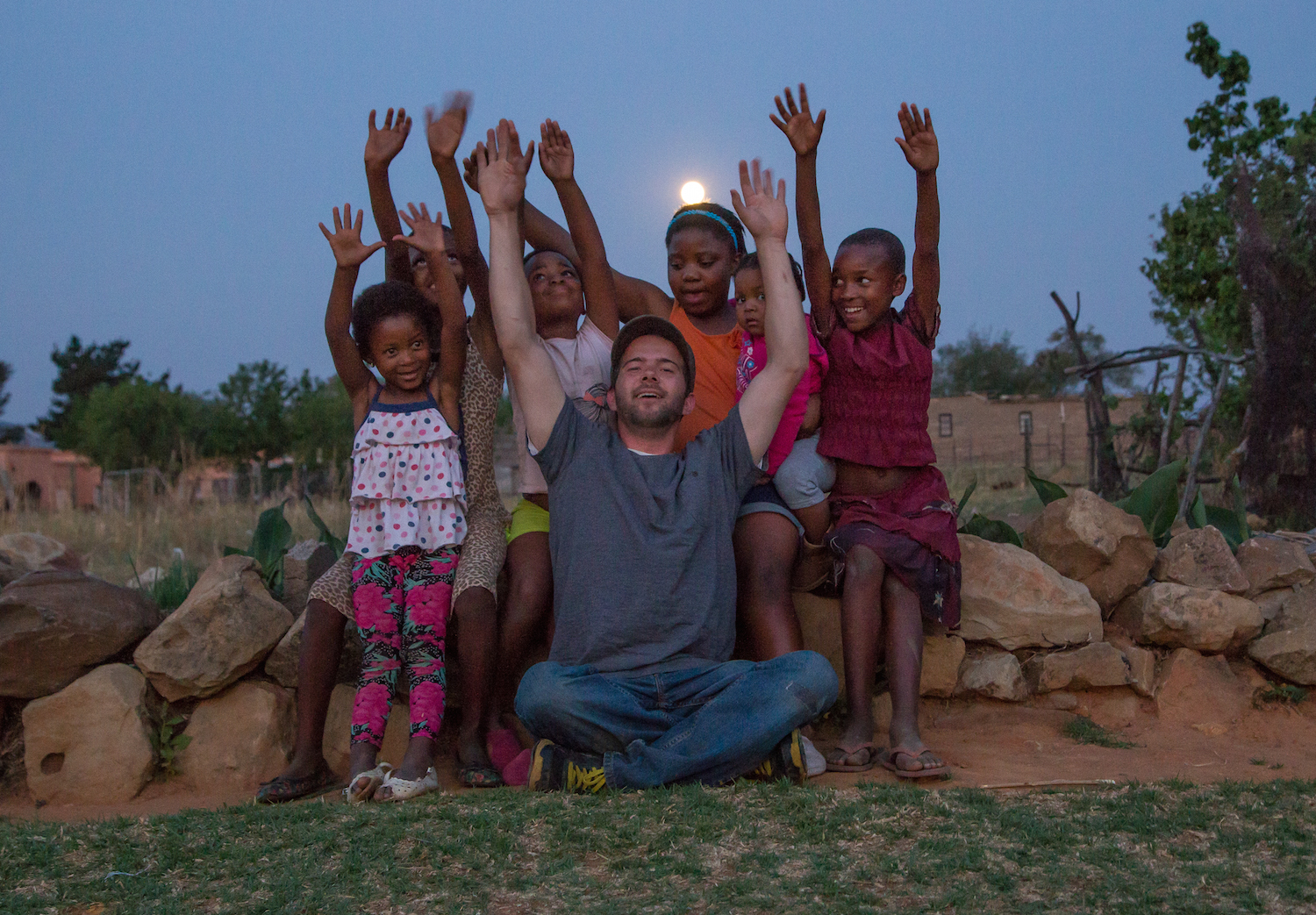 Oh, and the answer to the riddle is a wheelbarrow!