At the time, I was worried what I would do for work in my community with my obvious lack of structure, direction and guidance. This was three months ago. A lot has changed since then. In August, an extremely passionate Peace Corps Volunteer, Brandy Hart, approached me to assist her in the planning and execution of Camp BRO, Thaba Tseka. I was hesitant to immediately take on such a big project, but motivated to begin my work and dedicate myself to improving the lives of youth in my community.
Gender awareness, equality and development is a pressing need throughout our world. Similar to the Peace Corps popular girls camp GLOW (Girls Leading Our World), a Peace Corps Volunteer in Jordan came up with the Acronym, BRO (Boys Respecting Others) to gather a group of boys for a three day camp in exploration and discussion of their roles as young males and particularly, how their gender affects their lives. The goal of Camp GLOW is to empower girls, whereas that of Camp BRO aims to educate boys recognizing that boys play an essential role in fostering sustainable behavior change and achieving social justice.
We initially intended to go through the Peace Corps website to raise money through a PCPP (Peace Corps Partnership Program) grant or the VAST Grants that PEPFAR funding provides for support in Lesotho, but quickly realized our timeline was too short and Camp BRO was too imminent, so we developed a strategy to obtain local funding for Thaba Tseka's first-ever Camp BRO. This was where the real leg work was put in to build partnerships, obtain sponsorships, and local sustainable investment in the camp.
Brandy's inspiration for BRO came from experiences I also had early on in my service. However, Brandy was about to COS (Close of Service) and she had decided Camp BRO would be one of the most effective ways to approach some gender related issues in Lesotho. After seeing the results of the Camp, I most certainly agree.
In Lesotho…
Men work the fields
Girls play netball
Boys watch over animals
Girls sweep the floors
Men can own land
Women cannot
Boys play marabaraba (checkers) and soccer
Women shop for groceries
Men drink joala (beer)
Women cook
Boys erase the chalkboards
Girls clean the desks
At the age of 13, a girl is ready to be married
A man (boy) can buy her for a price
My friend Eric comically comments.. "how many coowwsss??"
Who is oppressed?
Who has power?
Lesotho has a large absence of positive male role models. In many families, older boys go to work in the mines in South Africa to make a high enough salary to support their families.
So, what is machismo? Toughness? Manliness? Bravado? Does it have an effect on gender equity? Can we change it? What does healthy masculinity mean? Can we achieve it?
Youth violence, gender-based violence, unhealthy gender roles and relationships with women, criminal activity, substance abuse seem to be the norm for boys and men in Lesotho. Cultural barriers at the family, peer, and community level remain one of the biggest obstacles toward achieving gender equity, although it has taken many legislative measures. Abuse, sexual violence, HIV transmission are common issues that stem from power imbalances between men and women. Statistically, Lesotho has the world's 2nd highest rate of AIDS - women are more vulnerable to contracting HIV- in the 15-24 age bracket, 1/4 of men and half of young women have HIV or AIDS.
Last week in my office I met an older woman. She was dressed in beautiful blue seshoeshoe attire (traditional Basotho dress). She told me that after three months I can have it. Confused, but also to be considerate, I smiled, "Ok 'M'e!" She laughed in reply, a look of sorrow in her eyes. In Lesotho, women MUST mourn their husband after he has passed away for exactly three months. They cannot work, go out with friends, date other men, change their dress, etc. They must visit the priest. And they must pray, a lot.
Lately life has been quite busy (a good and bad thing!) and my brain is absolute mush after Camp BRO, so with the permission of my kick-ass friend and fellow PCV, Brandy Hart, she is allowing me to detail the camp in her words that she wrote for our "Khotso" (monthly Peace Corps Lesotho Newsletter).
"They all came at once. The first police truck from Litsoetse arrived carrying ten boys in the cab along with their washing basins and overnight bags. Within minutes a quantum from Marakabei and a second truck from Mashai appeared with the other 25 participants. It was actually happening. As some of the boys were checked in, placed on a team (Hearts, Diamonds, Spades, Clubs, or Jokers), given their camp materials and shown their sleeping quarters, others entertained themselves playing volleyball, football, and basketball. By 6PM Friday evening 50 young boys and men and Basotho camp counselors/counterparts from around the district gathered in the main hall at Thaba-Tseka Technical Institute (TTI) to be welcomed to Thaba-Tseka's first Camp BRO.
The night started with an introduction by TTI President, Ntate Rabale, followed by various, fun team-building activities. The Human Knot proved to be extremely entertaining! Once unraveled, everyone sat down to prepare for the first session on Male Identity led by Peace Corps Volunteer, Anna Huff, and Ausi Ithabaleng from Action Aid. The night ended with a speech from Ntate Tamuka, a Zimbabwean national working in Thaba Tseka as a Veterinarian. Ntate Tamuka spoke about how his own identity was shaped by Zimbabwean culture and what his cultures expectations are for men paralleling it to something Basotho males can relate to.
The next morning, proceeding the boys baths and breakfast, PCV Kara Howard and 'M'e Lineo Hlaele from the Ministry of Gender led a session on Gender Roles and Power Dynamics. At 10AM PCV Alicia Carter and her GRS Skillz Girl Counterparts, Ausi Nnete and Ausi Retsepile, took the Camp BRO teams outside to the field for a competitive and active GRS activity on Risky Sexual Behaviors. The weather in Thaba Tseka was perfect for our busy Saturday. The morning concluded with a session on Abuse and Gender-Based Violence led by myself and Ntate Qhojeng from the Child Gender and Protection Unit (CGPU).
Anticipating the awaited soccer tournament, the boys quickly ate their lunch and walked to the field. After four 20-minute rounds team Diamond were the winners! We returned to the hall to learn a little Taekwondo from Martial Arts Specialist, Ntate Lekomo. Ntate Lekomo discussed the importance of fighting as a skill rather than a violent schoolyard activity. The boys were very engaged in this lesson, practicing their high kicks and showing off their athleticism. Following Taekwondo, Ntate Maketha, a Thaba Tseka Police Officer, spoke about positive life steps to avoid criminal activity. The afternoon also included a session on Healthy Relationships and Communication led by PCV Matthew Merritt and Help Lesotho, and small-group discussions with team leaders.
Our last session of the day was Leadership and Goal Setting led by PCV Cassandra Durian and counterpart Nnete. We heard inspirational speeches from Motjoli FM radio host D-Alex and Action Aid manager, Ntate Masilo. That night everyone nestled in their seats to watch Jumanji on the big screen. With minimal English dialogue and lots of action, it was quite a hit!
On Sunday the male staff answered questions from the Question Box while the rest of us welcomed back students from the Paray School of Nursing to continue testing and counseling volunteers for HIV (close to 75 people had gotten tested!). Afterwards Cassandra facilitated male and female condom demonstrations. Sesotho Media then arrived to present an interesting documentary on gender violence followed by a discussion.
Before we knew it the BRO-abuti ba Thaba Tseka were graduating from Camp BRO. We said our goodbyes and everyone piled back into the police cars ready to return home. The fruits of 2.5 months of hard labor and dedication were over in one short weekend. However, the team and I found comfort in knowing that, despite the stressful preparation, the boys left with more than full bellies and Camp BRO goodies bags. They left Camp BRO with a new understanding of themselves and how living a life as healthy men can help create an environment where gender equality can thrive. What more can you ask for?"
One of my favorite moments from the camp was extremely personal. A PCV in Mashai, Kara Howard, has created an incredibly strong bond with more than 15 boys in her community. Inspired by her friends fraternity photo hanging in her home, some Basotho boys from her community asked what that group of boys was doing formally dressed the same and posing for a photo together with their fraternity symbol in the background. Kara explained the meaning of brotherhood, community service, and leadership. They asked Kara is she would help them make their own boys club. This was a over a year ago. When the Mashai boys arrived at Camp BRO, you could tell they were extremely young motivated males and they were excited to participate and learn through the camp activities. Early Saturday morning, the Paray School of Nursing announced they would be doing HIV testing and counseling all day. Three of Kara's boys immediately stood up. Although they had been tested three months ago, a common commitment is to go test every 3-4 months. As a advocate for this I felt it was important that I also went to get HIV testing with the first three boys. Unlike the others, Abuti Bokang was nervous. I told him I would go with him and held his hand as we walked over. He explained that the needle is painful. In the end, Abuti Bokang decided not to test in fear of the pain, but he held my hand while I was counseled, had my finger pricked, and waited for the line(s) to show up on my rapid test. He promised at the next opportunity he would test.
The big picture idea for Camp BRO is to initiate it as an annual Thaba Tseka project, as well as, a Camp GLOW for girls. We also hope to inspire other districts and PCVs in Lesotho to do the same. A future goal is the sustainability of the camps, with trainings on facilitation to Basotho peer educators and teachers, to help keep Camp BRO alive. Overall, as PCVs we hope to see a boost in youth leadership and performance in their schools and communities spreading messages of gender equality, healthy lifestyles, and respect outside of their schools.
Three months ago, Brandy and I discussed the importance of Camp BRO in Lesotho. Where boys can be seen as the solution, not the problem. It is a call for alternative role models to rewrite what men in modern society are and aren't, who they strive to be, or what they can become by furthering their emotional development and development deeper self-awareness, a promotion for better relationships between men and women that are based on respect and understanding, and a push for men to recognize their power and use it to make a difference in their world.
Our BRO Anthem modeled the Remember the TItans chant. Two weeks later, I still find myself signing it in my head.
"Re Bo-Abuti! x2
Bo-Abuti ba BRO! x2
Mo rea reang! x2
Ba batlang ho tseba x2
Re bo mang x2
Joale re ba joetse!" x2
(We are brothers. The brothers of BRO. We are going! They want to know… who we are! Sooo we tell them!!)"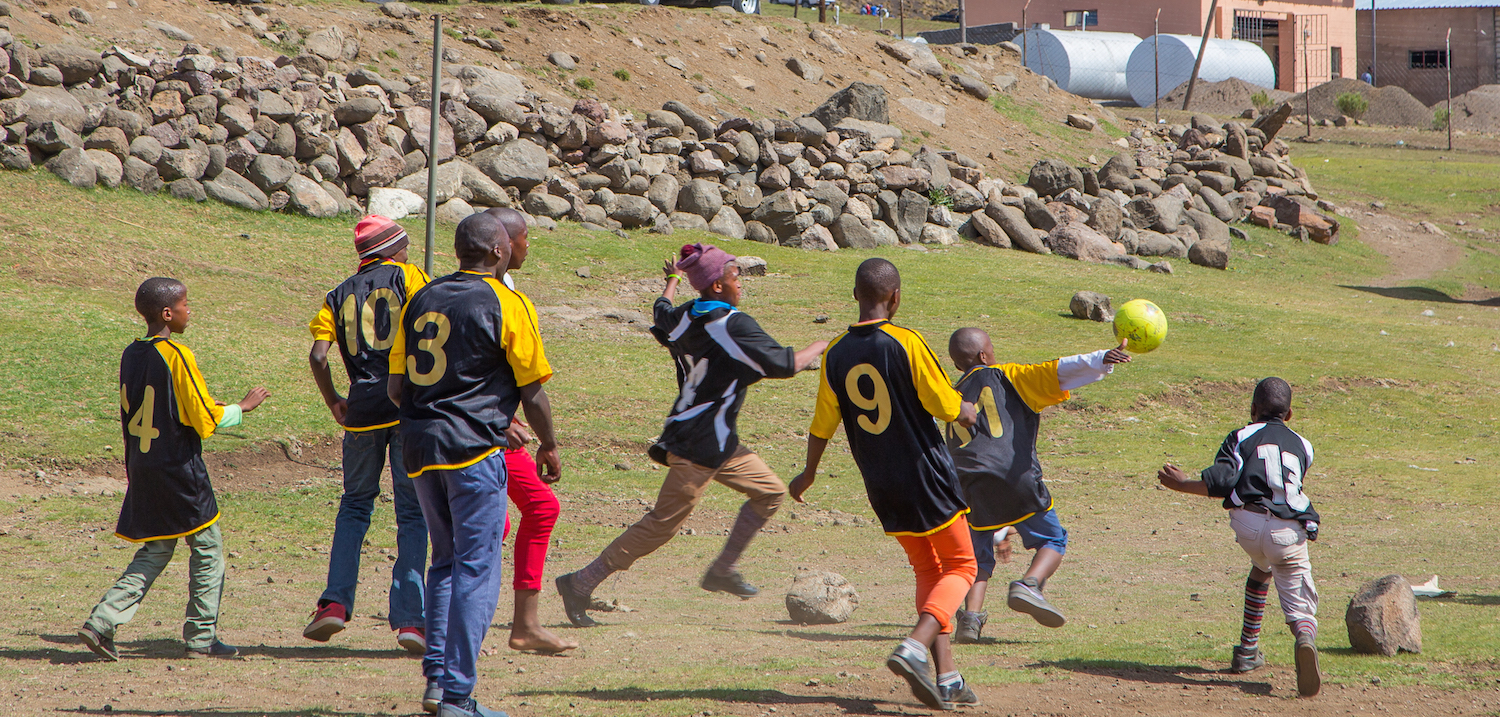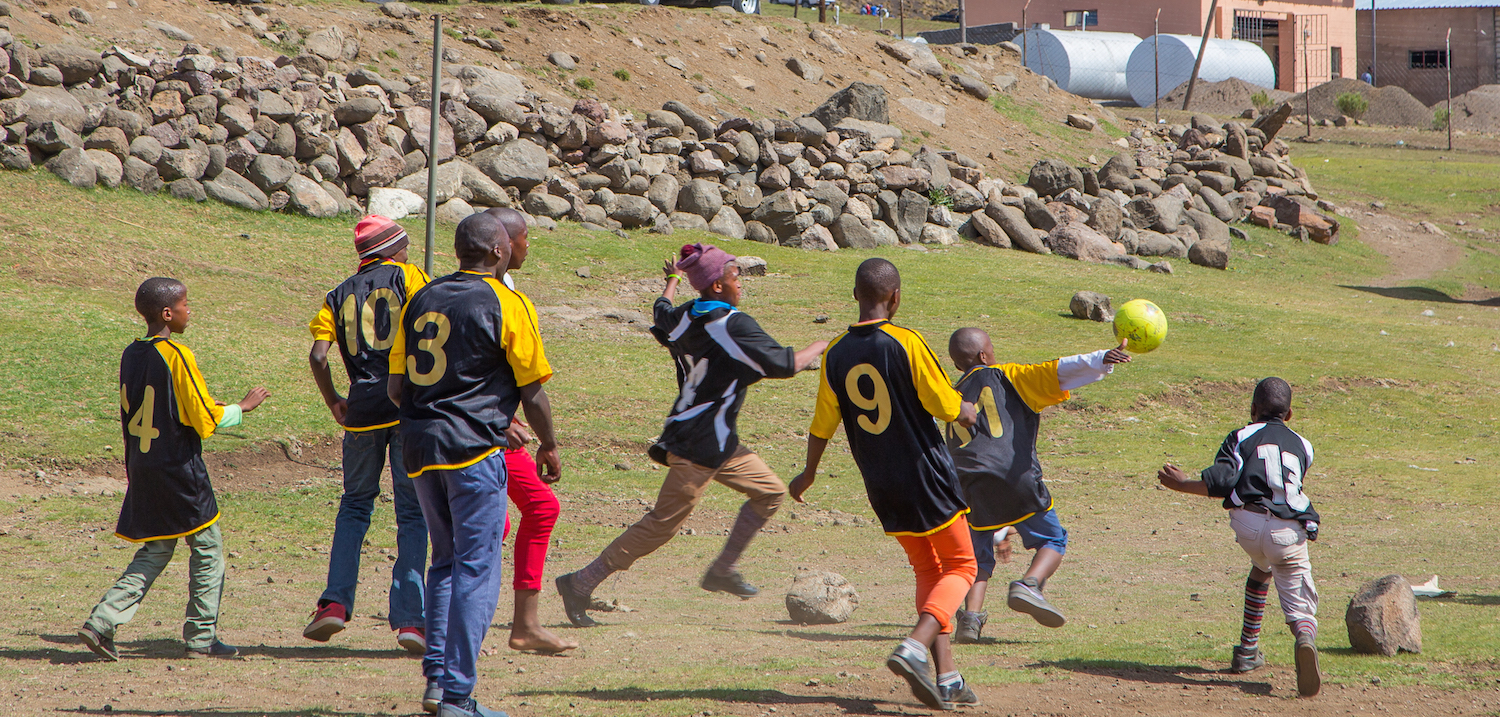 In other positive news: I bought a blender, found a freezer next door, Thaba Tseka opened their clay pizza oven patio restaurant, and I dressed up as Khaleesi from GOT for halloween. Life is good!