Carly asked the 36 of us,
"Why is it scary to get tested for HIV?"
My counterpart, Nete, answered first. As the workshop progressed I had witnessed her go through a complete transformation. She had started to open up and without restraint she became more comfortable in talking about her own experiences and opinions. She described the first time she went to get tested. It was a testing event at her university, the National University of Lesotho. It was casual; students went in and out of the tent unaltered by whatever results they received. Right before it was her turn she could not enable herself to go inside and she began to feel very nervous. That first day she had turned around, but she returned the next day and completed the test. However, unlike the other students she walked out of the tent changed by her courage and proud that she had gone inside.
The other Basotho woman in the room described the fear they feel when talking about HIV testing. They are afraid of the outcome, the difficulty of consistent adherence to taking ARVs, the myths they believe to be true, and the most common fear, the stigma and discrimination.
"The first time HIV was discovered people said it was for certain that it happens to people who act a certain way."
They elaborated on how small the villages and towns are in Lesotho. "The Village Health Workers, friends, and neighbors will all know..and the first thing if your test shows up positive is you think about the nurse, the counselor, and you wonder if they will tell. Sometimes even the clinics have doors and cues to call in HIV positive people and nurses have actually said, 'HIV positive people follow me!'"
So,
"The reputation and the stigma carry more weight than your health?"
For one week our conversations went like this. 18 Peace Corps Volunteers and Basotho Counterparts from their communities participated. We were all open and honest about our feelings and lived experiences, our fears and accomplishments, and our confusions and understandings.
We came together for Grassroot Soccer's first ever Peace Corps Lesotho SKILLZ Girl Workshop. Grassroot Soccer is a non-profit organization that uses the power of soccer to fight against HIV by providing young people with knowledge, skills, and support to remain HIV free. It is a simple, but powerful connection between soccer and life that helps young people understand health messages, stay strong when faced with challenges of peer pressure and protect themselves and others from HIV and AIDS. It speaks to youth through a language they know best, soccer. SKILLZ Girl focuses on improving participation among young female adolescents in the sport of soccer while recognizing that HIV is actually disproportionately concentrated among women and girls. The program provides a young group of girls with the opportunity to learn, grow, and feel empowered together through these practices!
Carly and Thembi from GRS led the workshop, practice by practice, as we would do with our girls when we implement the program. On the first day we gave ourselves a team name, the "Ramoho Divas," which means "We Are Divas Together." There were three male PCVs in the group, but they enthusiastically embraced every activity throughout the week showing their true Diva spirit. We created the first of many team Kilos (kee-lows). In Grassroot Soccer terms a kilo is a cheer that functions as a form of praise. My kilo knowledge is now extremely robust from the kiss kilo, to the Beyonce kilo (a snapping motion while saying 'I woke up like this'), to the condom kilo that demonstrates how to open and put on a condom, sound effects and all.
We all signed a contract signifying that we were committed to the program and that we know what is expected of us. On this contract we wrote the words, "Respect, Participate and Lead." However, participate was changed to FULLticipate because that's the cool GRS way to take part. We set ground rules for our program such as, "do not be judgmental, listen to others, be engaged, and have fun."
"I Am Beautiful!" is the title of Practice 2 in our SKILLZ Girl handbooks. Carly began by asking us to make a list of all the negative things we have been called. People wrote words like, "mean, ugly, arrogant, obnoxious, and prude." Feeling small we picked ourselves back up by making a list of all of the positive words we have been called.. "Confident, smart, selfless, nice, caring, responsible, leader, role model, good hearted.." The list was much longer. Carly forcefully ripped of the negative list of words from the board and simply told us that those don't matter. A simple activity, but extremely effective. The spirit of the room was instantly lifted and we became engaged.
This practice also includes a game of Fact and Nonsense, or in Sesotho, Nete and Leshano. The group is split into teams each with a card labeled fact on one side and nonsense on the other. After the coach reads a statement the team must decide whether the statement is nete or leshano. Statements vary from HIV knowledge to overall healthy lifestyles or other diseases.
"The most common way HIV is spread is through unprotected sex." "You can avoid HIV by having one mutually faithful partner." "There is no cure for TB."
The final activity of "I Am Beautiful" is to shed light on our strengths and the things we love about ourselves. Brave volunteers shared their beautiful body maps in which they labeled the strengths or things they are proud of and the body parts they love. "My legs, I love, because they take me wherever I want to go," Jordan's counterpart Mahlape said. I put a hashtag next to my ears. A skill I am currently working on is becoming a better listener. My ears allow me to understand and they also build my intuition and for that, I love them. I also put a heart next to my mouth. My mom always told me I have a beautiful smile ;) At the bottom of our body maps we completed the sentence…
"I am beautiful because…" and we all read our answers out loud to the group.
"I am beautiful because whatever makes me me, I admire, I extend outward, and I inspire in others."
As GRS coaches the workshop was meant to prompt heated discussions, breakdown myths, and expand everyone's comprehension on the topics at hand. The week continued from energizer to energizer, a never-ending amount of kilos, and soccer to conclude each day where everyones competitive sides came out. Conversations were stimulating and controversial. We learned about the Big 5. No, not the African wildlife, but 1) Be HIV experts 2) Create a safe space 3) Build personal connections 4) Give powerful praise 5) Spark vital conversations. All are key parts of being a successful SKILLZ Girl coach. We discussed healthy relationships, defined different types of abuse, various contraceptives, and puberty. We debated the difference between gender and sex and we did skits acting out situations in which girls should feel empowered to say NO. This was done after we learned the three skillz to say NO and emphasized that the ability to say no is a right we all have 1) Clear language…don't say no to sex when you really mean yes, MEAN IT 2) Strong body language…use a serious I MEAN IT face 3) Walk away!
I can honestly say I learn more and more from each workshop about HIV and other health issues in Lesotho, as well as my own body and lifestyle. Although, we still have not answered the question whether there is a Mosotho Magic Johnson.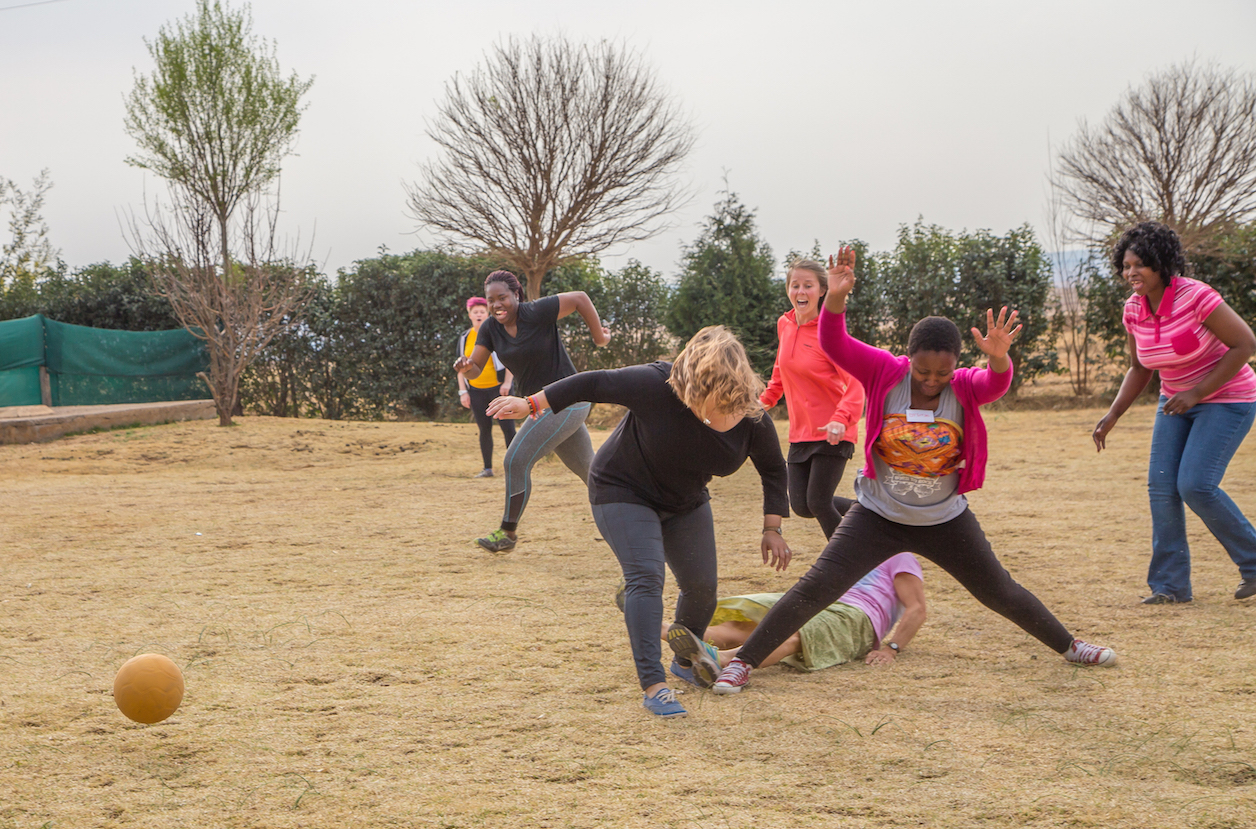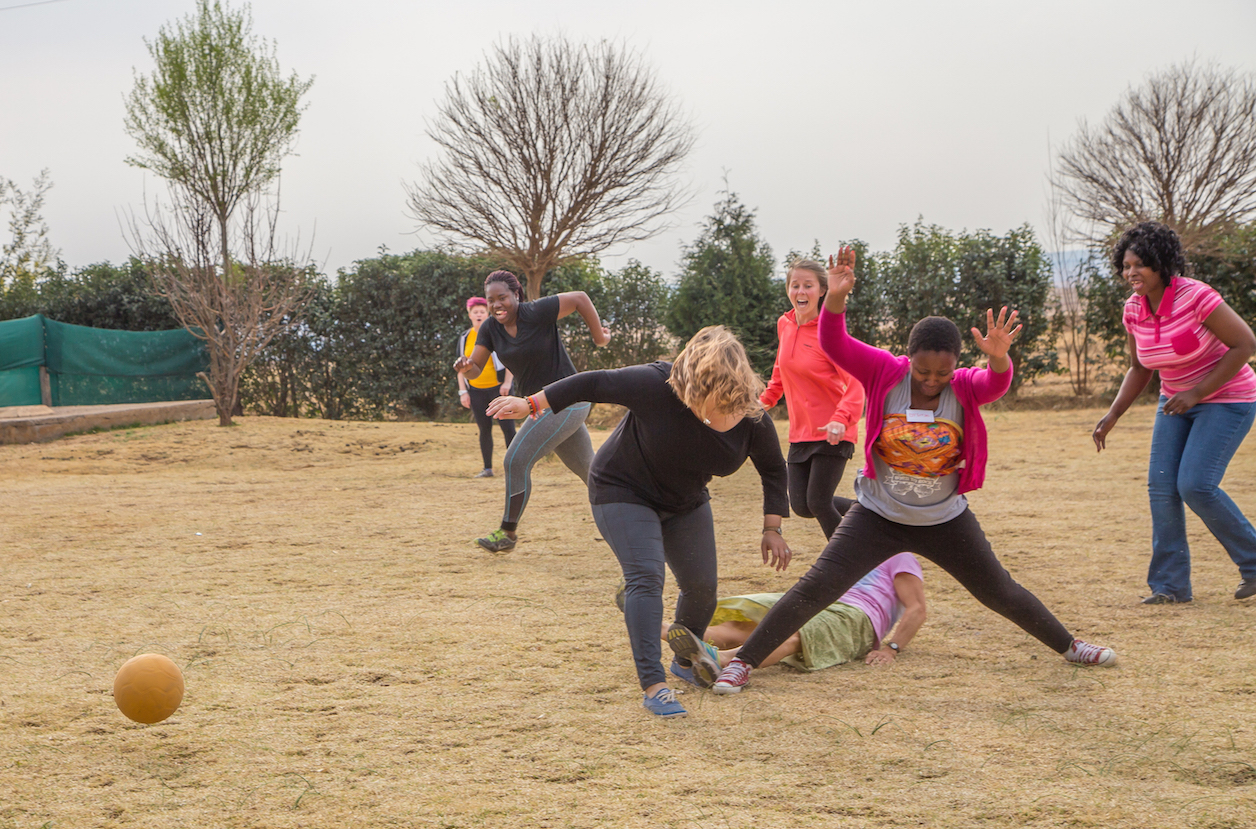 Since we concluded the workshop Nete and I still talk about what a great week it was and what a bond we created as the "Ramoho Divas." We have approached two primary schools in Thaba Tseka to start SKILLZ girl teams and will begin officially tomorrow. Things don't always happen this quickly around here! I hope the Ramoho Divas can be an example to Nete of how powerful and important these types of activities and conversations are with youth and adults alike. As a PCV working with a Mosotho Counterpart my role is to "guide by the side." I will still chime in when the discussion requires it, probably start a few dance circles, and come up with some crazy kilos, but I am letting Nete take the reins and become a role model and an incredible coach to these girls. In the next few weeks Nete and I will visit our local clinics, hospitals and stores to gain local knowledge on where youth can find condoms, what contraceptive methods are available, where they can get tested, among other things. Wish us luck!
GRS was founded by a group of soccer players who had played professionally in Zimbabwe. It was their response to losing friends and fellow players to AIDS and witnessing how HIV was devastating families, communities and the country as a whole. It was clear to them that the traditional model of educating youth about the disease in classrooms was not effective. So they decided to speak a language youth would understand. Since then GRS has grown to involvement in 61 different countries. It is an incredible program that I am so excited to have the opportunity to be a part of during my Peace Corps service.
As a Healthy Youth Volunteer the program is right up the alley of the goals we are tackling regarding HIV in Lesotho. HIV/AIDS is a part of every individual persons life here. Lesotho has progressed to the second highest prevalence rate of HIV in the world. One out of four people knowingly or unknowingly have HIV, however, everyone is affected by it. The small goals include education and individual behavior change while the larger goal is an HIV free generation. I believe someday this is possible.
During the workshop I was inspired by the practice demonstrating how to effectively say NO, and mean it. I jumped up in front of the group and proposed a photography idea. Everyone actively FULLticipated and I asked them to give me their NO, I MEAN IT face and then their I AM BEAUTIFUL face.
This was the result:
& A few more photos because Thaba Tseka is beautiful and I am LOVING Spring
(Including: A 30 min turned into 5 hour hike to a Horseshoe Bend look-alike, a present my little sister gave me when I returned from the workshop with amazing drawings inside, blooming peach trees outside my home, my awesome friends at Motjoli FM and a community networking meeting held last Friday!)
First days of Spring: